---
EWRC – Twinning Regions for Smart Specialisation
Often, cleverly designed regional innovation strategies fail at the implementation stage. The Bertelsmann Stiftung is launching a new project in 2023 to "twin" regions for peer learning to better implement smart specialisation strategies. In this workshop, held on Monday 9 October in Brussels, representatives from our select pilot regions will discuss the results of an in-depth analysis of their respective regional profiles designed to infer precise learning opportunities and to kick-off the twinning programme.
---
EWRC – Participatory/Political lab: Moving forward on transformative innovation policies through Partnerships for Regional Innovation
The European Week of Regions and Cities 2023 includes this session, on October 10, to present the main outcomes of the Partnerships for Regional Innovation. PRI is one of the flagship actions in the Commission/CoR joint action plan and it is closely linked to cohesion policy. The theme is breaking barriers to cross-border cooperation. (Tuesday 10/10/2023, 16.30 – 18.00 CET). More information at the following link.
---
EWRC – Smart Specialisation: main achievements and forthcoming challenges in EU enlargement
As part of the European Week of Regions and Cities 2023, this session aims to highlight the importance of targeted support for Smart Specialisation in the EU Enlargement countries and discuss the main needs for the future. Speakers will present key results from the countries' experiences in the design and implementation process of Smart Specialisation in two EU candidate countries, based on the methodological guidance for applying the S3 approach in the EU Enlargement and Neighbourhood region.
---
EWRC – How Living-in.EU portfolio can break barriers for cross-border cooperation
In this participatory session, organised on October 18 in Brussels, speakers will introduce Living-in.EU movement and its portfolio to attendees. In this regard, attendees will be able to share their challenges and identify the Living-in.EU solutions and assets that their city, municipality or region needs (e.g., LORDIMAS, Digital Transformation roadmap, Local Digital Twin…). Finally, there will be a signing ceremony that will show how to join the movement. Read more here.
---
EuroNanoForum 2023
Don't miss the EuroNanoForum 2023, the premier conference for nanotechnology and advanced materials, taking place from 11th to 13th June in Lund, Sweden. This event brings together industry, academia, policymakers, and stakeholders to discuss the role of nanotechnologies in achieving a sustainable Europe. The conference will cover topics such as green energy, healthcare, semiconductors, graphene, quantum technologies, sustainable packaging, and more. Don't miss the opportunity to be part of these important discussions and meet experts in the field.
---
Second Forum of the Mission Adaptation to Climate Change
Join the EU Mission on Adaptation to Climate Change Forum on 13th June 2023 at Blekinge Convention Center in Ronneby, Sweden, and online. The forum aims to bring together national, regional, and local authorities, research organizations, and European institutions to discuss climate resilience efforts. Pre-forum social events on 12th June include guided tours at Eriksberg and Ronneby Brunnspark, as well as an opportunity to learn about sustainable development in the Blekinge Archipelago. The forum will be conducted in English with interpretation provided for multiple languages. Don't forget to register here!
---
We Accelerate the Transition to Open Science: Best Practice and Possible Pathways for Impact
Join, on 12th June 2023 at 17:00, the a session titled "We Accelerate the Transition to Open Science: Best Practice and Possible Pathways for Impact." The event is organized by Member Lärosäten Syd (Universities in South Sweden) and the Working Group Science & Education for Society. At Nordic House in Brussels, speakers including Anna Lundhagen, Karel Luyben, and Sumithra Velupillai will discuss the transition to Open Science as the norm for scientific publishing. Doors open at 17:00, and the program starts at 17:30. Don't forget to register by 7th June!
---
DIGITAL EUROPE PROGRAMME INFO DAY
DIGITAL Europe Programme Info Day is an online event taking place on 7th June 2023 from 10:00 to 12:30 CEST. The event, organized by HaDEA, focuses on the 4th Call for proposals under the DIGITAL Europe Programme. Participants will learn about the Digital Product Passport, Network of Safer Internet Centres (SICs), and European Digital Media Observatory (EDMO). The agenda includes presentations, Q&A sessions, and information on how to submit successful proposals. The application submission deadline is 26th September 2023.
---
Unexpected Arts And Science Innovation Forum
The UNEXPECTED Arts and Science Innovation Forum will be held on June 1, 2023, in Lund. The forum aims to explore the concept of Existential Sustainability, which seeks to connect outer and inner transformation for real change towards sustainable societies. The event will feature six Innovation Spaces, including Transforming Fashion and Realizing Human Rights, and a panel talk on developing internationally connected and inclusive innovation ecosystems. Participants will have the opportunity to learn about the latest developments in innovation ecosystems, innovation projects in the cultural and creative sector, and connect with like-minded people from different fields. Registration is free but required before May 21, 2023.
---
The Green And Digital Transition: A Research Perspective
The Universities in South Sweden Brussels office is hosting an unofficial event for the Swedish presidency of the Council of the EU on May 25th from 9:00-11:00, featuring Caroline Sundberg from the working group NEB Task Force Bioeconomy Energy & Climate Change ICT Science & Education For Society. The event will focus on the science behind the green and digital transition, and will include speeches from Kevin Bishop and Carl Magnus Olsson on the subjects of open ecosystem science for the Green Deal and smart strategies for the digital transition. The event will include networking coffee and a moderated Q&A session. For more information and registration, visit the following link.
---
Partners For SMEs: Intermediaries in Regional Innovation Ecosystems
On May 24th, from 10:15-13:30, the Universities of Applied Sciences Netherlands will host an event called "Partners for SMEs: Intermediaries in Regional Innovation Ecosystems." The event aims to explore partnerships between knowledge institutions and public and private stakeholders to extend EU support to SMEs. The focus will be on how Universities of Applied Sciences can act as intermediaries to bridge innovation and different European support instruments to benefit local entrepreneurs. The event will include speakers and a networking lunch from 12:30-13:30. Registration details and more information on speakers will be available soon. More info here.
---
The 24th Edition Of The European Energy Transition Conference 2023
The 24th European Energy Transition Conference will take place in Bordeaux from May 23-25, 2023. The conference will bring together over 3,500 representatives from institutions, businesses, and organizations to discuss energy, climate, and mobility in order to achieve climate neutrality by 2030. On May 25th, the conference will hold a session dedicated to Mission Cities with the participation of representatives from 100 cities, European institutions, Member States, and associations. More information about the 3-day European Conference on Energy Transition can be found on the conference's website.
---
Partnerships For Horizon Europe: Smart Cities' Projects – Brokerage Event
This online event offers the opportunity to connect with organizations interested in presenting proposals to the Horizon Europe 2023-2024 calls related to smart cities and communities. The event includes two main presentation mornings, with keynote speeches and project idea presentations, and a two-week period for organizing online meetings through B2B sessions. Participants can register to be selected as a speaker, and the Enterprise Europe Network manages the brokerage event to generate new contacts and assess collaboration opportunities for research, development, and innovation. Register by May 23 to participate in this unique opportunity to expand your international network and create partnerships and consortiums.
More information here.
---
Forum Rhine-Meuse "mobility in europe: which solutions to a sustainable and borderless transport?"
Next April 12 of 2023 the Second Edition of the FORUM RHINE-MEUSE will take place at the Baden-Württemberg representation to the European Union, in Brussels. This year the forum will tackle European challenges of sustainable and cross-border transport. The event will be co-organised by Grand Est-Europe and the Representation of the State of Baden-Württemberg to the EU, in partnership with the French Embassy in Belgium, the Benelux Union and the House of the Dutch Provinces.
More event information here.
---
Fostering transregional S3-based cooperation: advancing the sustainable blue economy through macroregional innovation collaboration
It will be an event hosted by Technology park Ljubljana and the Slovenian Business & Research Association (SBRA) that will aim to promote transregional cooperation on sustainable blue economy development. The event will focus on the Smart Specialization Strategy (S3) as a tool to advance sustainable blue economy policies and initiatives. Participants will discuss the potential of S3-based cooperation for supporting economic growth, job creation, and environmental protection in the blue economy sector.
---
Partnership for Regional Innovation as a bridge between Smart SEFS Working Group meeting: how to bridge the gap between researchers and policymakers?
During the meeting, ERRIN members will demonstrate three practical examples of how evidence-based and evidence-informed policymaking is implemented. The JRC will engage in an open discussion with ERRIN members regarding the "Science meets Regions" preparatory action, which is set to conclude in 2023. This forum will offer members a chance to exchange their thoughts on the types of tools and resources they would like to see emerge in support of evidence-informed policy making at regional and local levels.
More event information and registration are available here.
---
EU Knowledge Valorisation Week 2023
During the EU Knowledge Valorisation Week, attendees will be presented with inspiring real-world examples of how to implement these guidelines for both personal and public benefit. This event is an opportunity for individuals to exchange their experiences, explore innovative approaches, and engage in peer-to-peer learning.
The three main thematic days of the event will centre on the topics of sustainability-focused valorisation, intellectual assets management, and collaboration between industry and academia.
More event information here.
---
Partnership for Regional Innovation as a bridge between Smart Specialisation and other EU policies to promote innovation-driven territorial transformation
The European Commission and the European Committee of the Regions launch on 28 March the High Level Event of the Partnerships for Regional Innovation (PRI) "From playbook to implementation" as a bridge between smart specialisation and other EU policies to promote innovation-driven territorial transformation. The event will held online and will emphasises that the fast and systemic transformation required to face today's challenges and to drive the twin transitions can only be met by working better together in different ways than before. This is the paradigm of the Partnerships for Regional Innovation (PRI) initiative
More event information and registration are available here.
---
In search for circularity: Collaborations between local authorities and researchers in circular economy
COLOR CIRCLE project is pleased to invite you to this event dedicated to cooperations between local authorities and researchers on circular economy, which will be hosted by the House of Dutch Provinces on 30th of March 2023 from 8:30 to 13:15 in Brussels. The exact location is 59, rue de Trèves, 1040 Brussels. The event will explore the actions that can be undertaken by local authorities to contribute to a circular economy and the role EU policymaking has in taking this from a possibility to reality through a series of talks and roundtable discussions from EU officials.
Registration are available here.
---
Smart Specialisation Strategy (S3) Conference 2023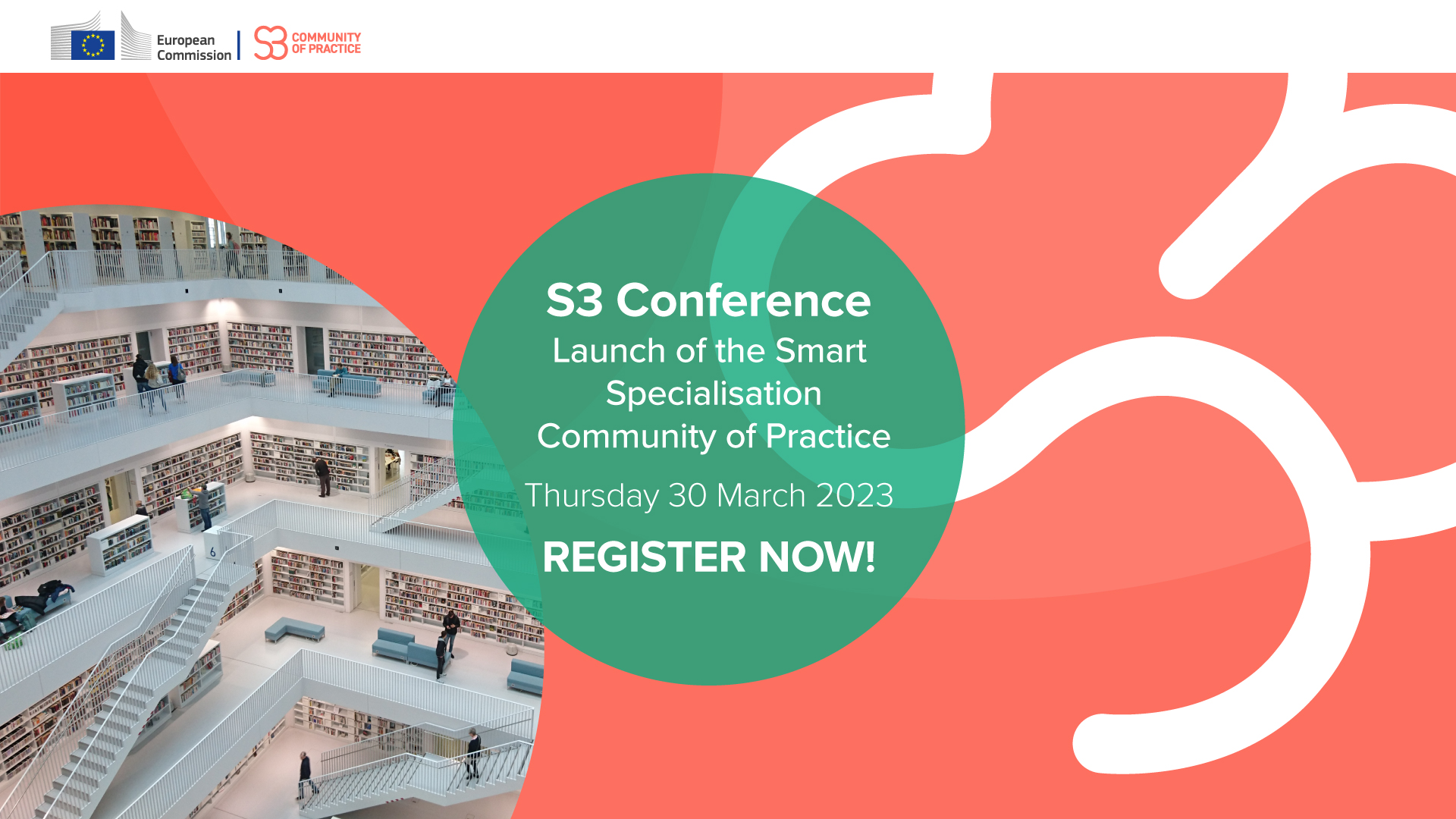 The Smart Specialisation Community of Practice (S3 CoP) is DG REGIO's source of support and knowledge sharing on the implementation of Smart Specialisation Strategies. It builds upon the decade-long experience on S3 design, implementation and monitoring. The S3 Conference 2023 is taking place online on 30 March 2023. It is the first in a series of events that DG REGIO is organising for S3 stakeholders from across regions in EU Member States.
More event information and registration are available here.
---
STS Conference
The 21th Annual STS Conference Graz, held in Graz, Austria and online on the 8-10 May 2023 on "Critical Issues in Science, Technology and Society Studies" is the joint Annual Conference of the Science Technology and Society Unit of the Institute of Interactive Systems and Data Science of Graz University of Technology, the Inter-University Research Centre for Technology, Work and Culture (IFZ) and the Institute for Advanced Studies of Science, Technology and Society (IAS-STS). Call for abstracts for the conference are open until 30 January 2023.
More information is available here.
---
EU-SPRI Conference
The European Forum for Studies of Policies for Research and Innovation will be held on the 14-16 June, 2023 in Sussex, United Kingdom with the theme of 'Research is Impact'. The conference will focus on the engagement of researching with wider stakeholder to deliver a positive economic impact and address societal challenges, in an effort to better align research and innovation systems with the changing needs and demands of society. The call for abstracts are open until the 23 January 2023 and event registration will open on the 27 February 2023.
More information is available here.
---
Sustainability Research and Innovation 2023 Congress
The Sustainability Research & Innovation Congress will be taking place on the 26-30 June 2023 in Panama City, Panama and online. This is the third edition of the congress, which brings together more than 2000 global sustainability research leaders government and civil society experts, funders, and innovators to inspire action and promote a sustainability ytansformation. The four themes of the event are: 1) Turning the Tide for Climate: Collaborative Action for Institutional Transformation; 2) Healthy and Inclusive Communities; 3) A Peaceful Planetary Mind; 4) Latin America and the Caribbean Science and Innvoation for Sustainability. Calls to participate (through workshops, demonstrations, dialogues, or collaborations) are open until the 21 December 2023.
More information is available here.
Hits: 181